Its been almost 5 years since the world came to know about a "Little Green Robot" commonly known as the "Android". It has set ablaze the mobile universe with few of the most amazing visuals and applications known to man. It has been a long journey from the G1 to the Galaxy Nexus. Let us turn back the clock and see how it all began.
Android: The Beginning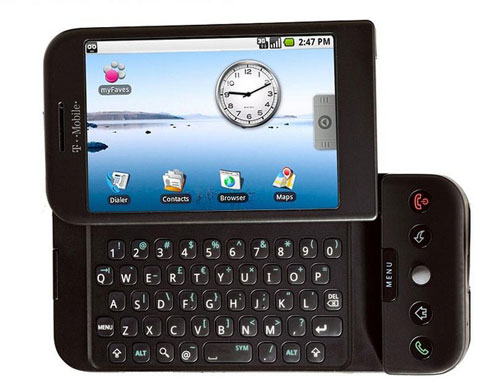 The Android was born on 22nd October 2008 with the T-mobile G1 launch in the US, unbelievably a lot of features we could not live without today were not available on the G1 when it launched in late 2008. Which included an on-screen keyboard and multi-touch capability. Of course when those first Android phones were sold, there were not many apps either unlike today where there are over 400,000 apps that we can download and enjoy now.
When Android was launched, we were introduced to the pull-down notification window, we were also introduced to the first mobile Operating System (OS) to feature widgets, which we have grown to love now. Of course with Android being owned by Google, there was some pretty deep Gmail integration when the G1 launched three years ago.
It's hard to imagine that the images above where from the original Android Market which launched on the G1 as well. Isn't it amazing how much the Market has changed in three years.
Android 1.1
The next version of Android to be released was not named after a dessert, that all started with Android 1.5. The first upgrade to Android came in February 2009, Android 1.1 was not a huge update, in fact it mostly consisted of bug fixes as with any first update on a new platform or software. And of course Over-The-Air updates were working from the very beginning, unlike Android's biggest competitor.
Android 1.5: Cupcake
The era of Android Desserts begins. Can you imagine a mobile OS such as Android shipping without an on-screen keyboard, but it only took Google two updates to get a touchscreen keyboard onto our beloved Android phones. But in April 2009 we saw the first touchscreen only Android device, the HTC Magic. Google added the soft keyboard to the Android OS in version 1.5, but they also added the support to allow third party developers to make their own keyboard apps like Swiftkey X, Swype and many others.
Google also added extensive widgets in Cupcake, meaning that now developers could bundle widgets for their apps when Android users download their apps. Which these are now found in almost all of the apps on the Android Market. New in Cupcake was also some Clipboard improvements, as we all know Android had a rather rough and bumpy trail to get to copy and paste. Android technically supported copy/paste from day one but it was very limited unfortunately. Copy and paste didn't get to be as great as it was today, until further down the development road.
Cupcake also featured many other miscellaneous updates including batch operations in gmail, upload support for YouTube and Picasa, and access to contacts' Google Talk Status throughout the platform  in places like the messaging app and contact's app.
Android 1.6: Donut
Our next tasty treat was Donut. This update was a big deal similar to how Cupcake was. But perhaps it didn't seem as big to most of us because Donut featured a lot of "under the hood" enhancements. Donut opened the door for Android to have phones that supported resolutions different then the 320 x 480 that the T-Mobile G1 had. If you look at all the current Android devices, you will see many different resolutions and screen types, in fact it's hard to find two phones that have the same resolution and screen type. This is all thanks to the Android geniuses behind Donut.
Android 1.6 also introduced the notion of the Quick Search box that we all know and love. Prior to Donut you would have to go home and press your "search button" and you'd be directed to Google Search in your browser. Donut also featured a redesigned Android Market with white and green accents, which are very closely tied in with Android's Mascot and Android Authority's mascot as well. Also a redesigned Camera interface with much better gallery integration and reduced shutter lag. Although most people didn't notice much difference in the changes. Google would continue to make small changes all the way through Android 2.3 with significant changes in Android 4.0. But most of us don't see it since manufacturers cover up the camera and gallery apps with their own skins.
Android 2.0/2.1: Eclair
In early November of 2009 Android 2.0 launched right on the heels of Donut. This was a pretty big update that was split into two version numbers. With Eclair being announced, Motorola released their first Android phone exclusively on Verizon Wireless, the Motorola Droid – this was when I first started with Android – this phone really changed the game of Android for the next two years following it's release. In fact a lot of people that bought still have and use it everyday. Some people have named the Motorola Droid, the Nexus before the Nexus. After the Droid was released Google teamed up with HTC to make the Nexus One, which was a developer's phone, but it was sold unlocked to everyone.
Soft Keyboard Improvements: Like the G1, the Droid launched with a full physical QWERTY arrangement – which is still on the Droid 3 and just released Droid 4 – but Google still needed to showcase it's touchscreen keyboard. Eclair still lacked multitouch platform wide. But Eclair did used multitouch data on the keyboard to detect secondary presses while typing rapidly, which made a hug difference for those like me that type pretty fast.
Multiple Account Support: Finally we could add more then one Gmail account to the Gmail app on one device. Support for multiple Microsoft Exchange accounts was also added. Which for a lot of us with professional and personal email addresses it was a good change.
Quick Contact: You remember how Cupcake had added contacts' Google Talk statuses throughout the platform right? Well Eclair added the quick Contact bar, which amounted to a pop-up toolbar that you could use to interact with your contacts in a variety of ways, and we still have this feature even in Android 4.0
Live Wallpapers: One of the more "show off" features of Android are the Live Wallpapers, which first made their appearance in Android 2.1.The concept was simple and at first we all thought it was really cool, instead of a static image it was an application which gave your device an animated background. But we all quickly found out that it wastes battery.
Much more: Google also added Speech-to-text, a very much revamped browser, new lock screen, manufacturers' skins, and Google Maps navigation. So we can say this was probably the biggest update to the Android OS since it started in October of 2008.
Android 2.2: Froyo
In mid-2010 Google released Android 2.2, and the advantage of having a Nexus started to become clear to consumers. The Nexus One by HTC and Google was the first to get updated to Froyo. The first phone to launch with Android 2.2 pre-installed? None other then the HTC EVO 4G from Sprint – which I also had and loved. So what did Google have to show off in Froyo? Plenty, but maybe not as much as in Eclair. Froyo brought us five homescreens, which before we only three homescreens to place widgets and short cuts on. Additionally, Android 2.2 added  dots on either side of the launcher to indicate which screen you were on. In some ways, Google was patching up some things that manufacturer skins were already doing like HTC Sense and Motorola's motoblur.
Of course the two normal things that got updated in Froyo are the Android Market and the Browser, which seem to get updated every time Google releases a new version of Android. Google also implemented more API's and services for developers to use within the platform. The redesigned gallery that was shown off in Froyo really started to show off the platform's 3D capability. The gallery had 3D capability, which we now see being put into other aspects of the platform, especially in the CyanogenMod builds.
Android 2.3.x Gingerbread
About six months after Froyo launched on the Nexus One, Google released the Nexus S – built by Sprint and available on three of the four major US carriers – with Gingerbread. The biggest part of the Gingerbread update was the UI, as you can tell in the pictures Android went from a light user interface to a more dark one. This was done because the Android Team believed that the darker looks make the platform feel more modern and also saves battery, which was and is the number one complaint about Android phones.
Gingerbread was a "minor" release but in my eyes it was a huge release, maybe not as big as Eclair, but still a pretty big deal. Of course it brought along for the ride the usual assortment of bug fixes and browser enhancements, new Android Market, and better copy/paste functionality.
Enhanced Keyboard: Google once again enhanced their on-screen keyboard, they did not update it in Froyo, other then just minor bug fixes. The Gingerbread keyboard had a whole new look and feel to it, overall it became my favorite keyboard very quickly.
Better Battery Management: Over the last two years, Android had been said to be doing to well in the multitasking area. Letting some apps always run, and run down your battery – which we all hate right? – so in Android 2.3 Google added better battery management – you can see how it looks to the right – which we all use everyday. With this new feature you could see exactly what percentage of your battery each app was using, and of course the display is always going to be at the top.
Gaming Development: Google really stepped it's game up with the release of Gingerbread on the gaming front, one of the few areas where it was pretty far behind iOS. The new version of Android gave developers lower-level access to audio, device controls, graphics, and storage, which allowed them to write considerably faster native code.
Support for a front-facing camera: When Froyo was released, the HTC EVO 4G was the first non-Nexus phone to launch with Android 2.2, and the first phone to have a front facing camera. So for those of us who had the EVO 4G from Sprint, it would be over six months before proper support would be available for the front camera, but that didn't stop the functionality of the front camera on phones like the EVO 4G.
The Nexus S also launched with NFC (Near Field Communication) capability, so the birth of Google Wallet happened with the launch of Gingerbread and the Nexus S.  In Gingerbread there was not much you could do with NFC, but as you'll see below in Ice Cream Sandwich there is a lot we can do with NFC.
Android 3.x: Honeycomb
Google had noticed that a lot of it's Android manufacturers were starting to make tablets for it's fast growing platform, so Google decided instead of modifying Android 2.2/2.3 to fit the bigger screen lets make a version of Android just for tablets. Hence the birth of Honeycomb. Honeycomb was a bit rushed in the coding and building of the next generation of the Android platform, but for a rushed update it sure looks, feels, and acts very nicely.
Green Accents turned Blue: Android left the Green accents which we saw so much in the first major update to the Android Market in Donut, and the major UI overhaul in Android 2.3. Which was a bit of a surprise to a lot of people, since the Android logo and mascot are green why not keep it green? But the blue accents look really awesome. Take a look for your self.
Resizeable Widgets: We hadn't heard any updates to widgets since Cupcake which was about a year ago. Now in Honeycomb we can resize widgets, which is pretty cool and one of my favorite features of Honeycomb. Google also brought us new widgets, the biggest improvements were the Calendar, Gmail, and Email widgets.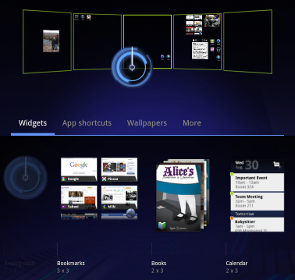 Death of Physical Buttons: On a Honeycomb tablet, the only buttons you need are the power and volume rocker, that is it! All the other buttons are on screen, including Back, Home, and Recent Apps. Google got rid of the Search button – but you can add it back very easily. Because these buttons are now virtual, the system can hide them very easily and flip them when the screen rotates.
Enhanced Multitasking: 'Borrowing' a page from WebOS, keep in mind that Google had hired WebOS's design Guru Matias Duarte, the new Recent Apps button next to the Home button looked and acted much like on WebOS devices. By selecting the Recent Apps button you could see all the recent apps you have running and swipe to quit them, and save your battery a little more. You could also tap on one of the apps and go directly to that app.
Android 4.0.x: Ice Cream Sandwich
Google's latest addition to Android is Ice Cream Sandwich, announced in October of 2011. ICS launched on the Samsung Galaxy Nexus which currently is only available in the US on Verizon Wireless – boy was that a crazy launch – and available as an unlocked GSM phone in most of the rest of the world. Ice Cream Sandwich is the glue that brought Android's phone OS and Tablet OS together. A lot of Honeycomb's features were added to Ice Cream Sandwich plus many more great ones.
New Launcher: ICS brings with it a entirely new launcher, now you can actually use up the entire bottom row of your screen, instead before you had some space for those little dots to show you which page you're on. Also the app drawer is different, it has two tabs, one for Apps and one for widgets. So now all your apps and widgets are in the app drawer, no more long pressing your home screen to add a widget. Just drag and drop it on to a home screen from your app drawer.
Face Unlock: If you recall in Gingerbread, Android got front-facing camera support right? Well in Ice Cream Sandwich Google started to use that camera a bit more. With face unlock it uses the front facing camera to verify who you are by your face then unlocks your phone. It's pretty cool, but after a while it gets annoying because those front facing cameras don't usually have a flash and it also doesn't work well if you have a beard.
New User Interface: Ice Cream Sandwich brought over the UI enhancements Google put out in Honeycomb, getting rid of the green accents in favor of the blue ones. As you can see from the pictures they look pretty nice and smooth.
Hardware Acceleration: Now in Ice Cream Sandwich we have true dual-core processor support. Most of the new and current Android devices – phones and tablets – are now running on dual-core processors, but in previous versions of Android we did not have the software support for dual-core processors. Now we do, and Android is much faster then ever, especially if you don't have a manufacturer's skin on top of it like Touchwiz.
New Font: For all the previous versions of Android we had what was called the "droid" font. In Ice Cream Sandwich we got what is called "Roboto"  which makes a huge difference, and looks more modern then the old "droid" font.
Data Usage Management: Starting in Android 4.0, Google added a cool new feature inside the Settings app, Data Usage. It shows you how much data you've used and which apps have been using all of it. Also breaks it down by weeks and days, by app. You can also see how much data the app uses in the background and restrict it's background data. Something we really need with all these carriers shutting down unlimited data.
New Calendar and Email Apps: In Honeycomb we got new widgets for the calendar and email apps, in ICS we got even newer widgets and new apps! I must say they look pretty slick. The apps look almost completely different then they did in Android 2.3 and Honeycomb. For the first time the Calendar app now has a unified view, great for those like me who has multiple calendars on multiple accounts.
Android 5.0: Jellybean?
It has been rumored that the next generation of Android OS will be called the Jelly bean. Its release or development has not been mentioned by Google at this time as it is currently working on upgrading its ICS software. Android  has kept us amazed and wondering that "Whats Next?"
Comments
comments
Related posts