Google Now which is one of Jelly Bean's exclusive features has been updated in the Google Play Store. Since the adaptation and integration of the search giant's knowledge graph system into this handy little search app, Google Now has managed to put a smirk on many faces with its accurate and quick searches along with a voice enabled SIRI like search client . The unique feature of Google Now are the info cards that have different functionality and can be assigned to the home screen.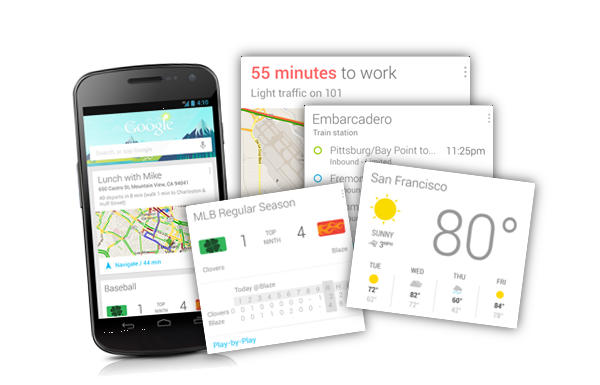 The update (lots of changes have been brought) brings with it all new voice actions that will allow you to set a meeting entry in your calendar, pull up your next meeting/appointment at any given time, and launch apps. Besides the traditional weather and sports update cards, there are also a few new cards for nearby attractions and photo spots, movies opening in nearby theaters, concerts going on, and much more. Another interesting feature which the update brings with is that Google Now now works with Gmail (currently only in English) allowing you to send emails to contacts without having to type anything. Sounds cool doesn't it ? The updated app also supports flights, restaurant reservations, hotel confirmations, events, packages scheduled to be shipped to you etc.
For example if you place an order for a particular product from Amazon, Google Now is going to notify you with the delivery status, along with an estimated time for the product to arrive. Now whether the status updates are in real time or not, that has yet to be seen. Besides these, there are other several notifications as well along with a multiple variety of different cards. Once the update is done, make sure to check them all out and also do let us know if you happen to find any further interesting things which we might have missed out. Cheers !
Comments
comments
Related posts