We all knew that CES was supposed to be full of surprises and that is exactly what it has turned out to be till now. The four day event has paved a way for both companies and developers alike to showcase their respective talents and enthrall the world with new and innovative sate of the art products. With that said, Samsung do lead the race when it comes to innovation and creativity which is indeed a fact and that is exactly what the Korean tech giants are doing since the very first day of the mega event. From UHD televisions to flexible displays to many other things to say the least and if that was not enough, wait till you find out in the next few lines as to exactly what Samsung has in store for you next.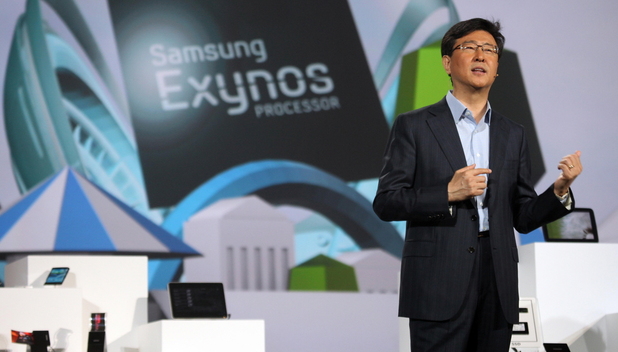 Samsung today unveiled the world's first Exynos 8-Core mobile chip called the 8-core Octa Core Chip of Cortex A15 and Cortex A7 CPU cores in a "Big.Little" configuration. The Big.Little architecture uniquely combines very low-power cores like the one present in the Cortex A7 with higher end performance cores like the ones found in the Cortex A15 which gives an extremely well blended mix of performance and and optimized battery life. The Exynos chipset features two quad-core SoCs, with one being an ARM Cortex-A15 based implementation clocked at 1.8GHz, while the other is an ARM Cortex-A7 implementation at 1.2GHz. The former will be used for the usual CPU-intensive tasks such as gaming, web browsing, HD video playback and more. If you aren't doing these things then the phone will favor the weaker (but still powerful), more battery friendly set of cores.
As mentioned earlier, this indeed would be the first 8-core processor for handheld devices  and is most certainly ready to surpass its predecessor, the Quad-core chip currently running in all the so called "powerful" devices. The one question that does happen to arise now is that whether this beast of a chip be able to beat the likes of the new monster unleashed by Nvidia, The Tegra 4 with its 72 GPU cores ? We'll have to wait and see.
Comments
comments
Related posts