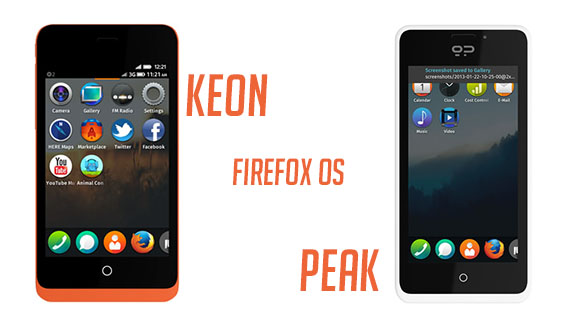 When we thought that Android and iOS were the only two dominant forces when in the smartphone OS world, we'll better have to think again as there are new players who are stepping up to this challenge with the passage of time and one such surprise package in the midst of it all is the new web-based operating system developed by Mozilla, the company most renowned for its web-browser Firefox. Now you all must probably be wondering as to how and why a company such as Mozilla would like to make itself a part and parcel of the smartphone OS genre ? Right ? Well the answer lies in the question itself. As we all know, Mozilla as a whole is an open-source minded company which thrives to focus more on what the end user requires and how he/she perceives it to be. With that said, Mozilla have officially unveiled two of their very first range of handheld devices that would be running on the company's new OS, the Keon and the Peak.
The Keon
The Keon, which is a low end budget smartphone packs up the following specs;
Snapdragon S1 SoC processor clocked at 1GHz,
Full support for the usual 3G and 2G bands
4GB of internal storage
512MB of RAM
3.5-inch 480×320 display
3MP rear camera
Micro SD slot
GPS
802.11n wireless connectivity.
1580mAh battery
The Peak
Next in line comes the higher end variant of Mozilla's two new wonders, the Peak which does seem to pack a punch when it comes to specs which include;
Dual-core 1.2GHz Qualcomm Snapdragon S4 processor
4.3-inch 960×540 qHD IPS display
8MP rear camera
512MB of RAM
2 MP front-facing camera
4GB of internal storage
Micro SD slot
1800mAh battery
Wi-Fi and micro USB connectivity options
Even though the pricing details have not been disclosed as yet, we won't be needing to wait too long to find out since both the devices are scheduled to hit stores in February (next month). So what do you think about this new found initiative on the part of Mozilla ? Would it be able to swim together with the more bigger fish in the ocean ? We'l have to wait and see. Personally speaking, I like companies like Mozilla who are trying to come up with something new and innovative in the OS market which is sure to open doors for other developers who would like to follow in its steps. Good Job Mozilla !
Comments
comments
Related posts