After days of speculation, HTC's most anticipated phone of the 2013 has finally been launched. The device which was initially known as the HTC M7 is now simply called the HTC One. Even thought this name change does create a little bit of confusion among the user's who occasionally mistaken it with the One X, which no doubt was HTC's flagship phone of 2012. In recent times HTC was facing a financial down slide in the smartphone category for quite a few reasons which have already been mentioned and talked about before. Coming back to the HTC One, this beautifully crafted all-aluminium device is surely on the verge of capturing HTC's lost market and is on track on becoming one of the market-leading smartphones this year (at least till now). Today we take an in-depth look of what this new device actually has to offer.
Design and Body
The one major attraction when it comes to HTC devices is most certainly the elegant and sleek designs for which the the Taiwanese tech giants have been renowned for. The HTC One bears a resembling look to its Windows compatriot, the HTC 8X with its sleek but sturdy design which even though is fully loaded with all the spice and muscle comes neatly packed in a 9mm frame. HTC's engineering team should be given credit for this distinctively new and reformed design which gives the phone an absolute pleasure to get your hands on. As mentioned earlier, the HTC One is metal through and through as a result you will not find any sort of plastic bearings or plastic used anywhere. For those who are wondering about the death grip problem which initially came with the iPhone 4 and the HTC One X because of their similar metallic bodies, HTC have ensured that the problem has been rectified and would not be a hindrance in the new flagship device. According to some inside sources, the antenna has now been strategically fixed in such a way that the death grip doesn't comeback to haunt the company again (well lets keep our fingers crossed for that).
New Revamped Touch Controls
It seems that design isn't the only thing on which the company has shed its focus on. The HTC One brings with it an entirely new controls system. We now take an in-depth look at the significant changes made to specially go hand in hand with the all new HTC Sense 5.0. To start off with things, HTC has dropped the (ever existing)  recent apps button. Instead the bottom of the phone has the back button and the home capacitive buttons flanking the HTC logo and this rolls in some new changes in the way the HTC Sense 5 works. The "recent apps" function is now accessed through a double tap on the home button, and rather than giving you the somewhat inefficient landscape-scrolling screenshots of Sense 4, you now get a simple grid of active apps. It's refreshingly lightweight, which is what Sense 5 is. A long press on the home button launches Google Now, so it doesn't feel like you're missing out. These are just a few of the many other different changes being brought up in the new device, we'll take a detailed look as we further proceed with the review.
Display
The device comes with a 4.7″ LCD IPS display boasting a full HD 1920 x 1080 resolution along with a pixel density of 468ppi. When it comes to display, HTC never leave any stone un-turned and the same is the case with the HTC One which emits pictures and videos in an extremely sharp manner with immaculate detail. The screen is made out of the second generation Corning Gorilla Glass which means that it would be resistant to scratches and embrasures but that doesn't mean its completely drop or damage proof. The viewing angles and colors  from what we've seen so far are hugely impressive and from the looks of it, the glass runs right to the edge of the handset giving it a well polished and sleek look to go with the aluminum body.
Hardware
Now lets take a peak at the heart and soul of any device which is the hardware. The HTC One runs on a  1.7GHz quad-core Qualcomm Snapdragon CPU and boasts an impressive 2GB of on-board RAM. The device comes in two versions when it comes to the internal storage. There is a 32GB  and a 64GB variant which is exclusively available in a few regions. There is no external microSD card slot and this pretty much explains as to why HTC have opted to go with 32 and 64GB of internal storage. One interesting feature which we found in the device was the infrared or IR functionality which seemed to have been lost a long time ago specially after the smartphones genre took over the mobile industry. HTC have managed to intelligently integrate the IR transmitter node into the phone's standby/power button. One of the major advantages of the IR Control is that (you guessed it right) user's would be able to switch channels with their new device without moving from their couches. The device can also be used as a remote for your home cinema as well. The device supports a wide range of OEM's which can easily be selected through the  TV app. To be very honest, this reminds me of the old Symbian days when we used to flick through the channels using our old Nokia handsets.
Ultra Pixel Camera with HTC Zoe™
A few days back we had mentioned about the upcoming new technology in the camera industry called the "Ultrapixel" which which will soon replace the traditional Megapixel technology. The device comes with a 4 Megapixel sensor which is capable of taking shots equivalent to a 13MP lens. Here's where the Ultrapixel technology comes into play. What this new feature does is that it maximizes the actual picture in such a way that it becomes more sharper and clearer which even allows you to capture high quality pics even in low-light conditions. Side by side comparisons with top cameras of the moment showed that only the likes of the iPhone 5 could really compete when it comes to low light performance, which bodes well for the HTC One.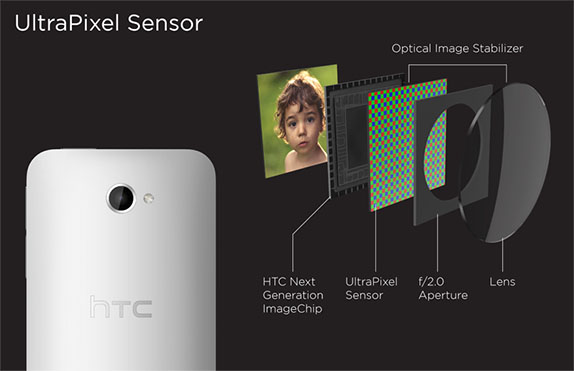 If you think that the One's hardware is impressive, just wait and see what the software side of things has to offer. Besides the regular features including HDR picture and video shooting, panorama shot and video recording in full 1080p, the HTC One offers a whole new camera experience with its new live mode called Zoe Camera which is actually quite impressive and fun to use. Zoe Camera (the name is derived from the zoetrope) will constantly capture content through the camera when you're in the app. So you might press the button to capture a still, but the camera also has the action before the button press, as well as the time after. Zoe will then produce zero-edit videos from this footage, mashing together video, stills, effects, themes and a soundtrack. The results are spectacular. It might sound like a gimmick, but Zoe will take any boring selection of photos and make it into something engaging and interesting.
So rather than sending a couple of choice photos to Facebook, you can share a Zoe and people can watch the action. Rather than boring your family with a slideshow of a day out, Zoe will do all the hard work for you. It's a feature that has to be seen to be properly appreciated. There will be a hub for sharing "Zoes" called Zoe Share, with HTC telling us that this would give you 180 days, with aims of this developing into some sort of social community. Hmmm sounds interesting doesn't it ?
HTC Sense 5.0
HTC devices have always been wrapped up in their own little UI called the Sense. Well with the launch of the HTC One, comes the all new HTC Sense 5.0 which is a complete makeover of what its previous versions had to offer. Since the launch of the Windows Phone genre, people have been continuously talking about the live update features or in other words the "Live Tiles" as they are most commonly known in Windows devices. The Sense 5.0 adds a somewhat similar feature to its repertoire with the introduction of an all new "Blink Feed" feature.
The device which runs on Android's latest OS Jelly Bean 4.1.2 takes full advantage of this new Blink Feed feature. Blink Feed is an evolution of much of what HTC has been doing before, but rather than having lots of different widgets, Blink Feed is designed to be a glance-and-go method of getting relevant information, hence the name. At a basic level, it is a content aggregator, drawing from multiple sources which you define. That might be your social networks like Facebook, but you can also tailor the content to you by selecting sources, with more than 1,500 on offer. For instance, there is an official UEFA app which allows you to get updates on all the latest happenings in Europe's top flight Football competition.
Blink Feed is your new home page, scrolling beautifully and letting you glance at headlines and images, clicking through to stories that interest you. It's really fast too. If you don't like Blink Feed you can turn it off, and you can always swipe to the side to return to a conventional home page that you can fill with shortcuts and widgets, if that's what you want to do. The apps tray also works slightly differently as you can create folders within the apps tray, making it easier to manage your apps, as well as being able to change the size of the grid of apps, so you can fit more, or less, on to the page. Sense 5.0 makes customization of the home-screen along with the various widgets relatively quite simple. The company has replaced the old (and over inflated) weather and clock widgets with new small and sleeker ones which is nice to see for a change.

HTC Boom Sound
Before the launch if the flagship device, HTC has promised user's about a new innovation in sound which was supposed to accompany the HTC One and we can surely say that the company has indeed lived up to its promise. Along with the traditional support for Beats Audio, HTC have now kept two large front facing speaker grills which provides relatively loud and the same time ultra clear sounds. Besides these innovative speakers, you will also find dual microphones embedded inside the device for sharper and crisper conversations whether you are on a regular call or using any other third party VoIP client like Skype, Viber, Tango etc.
Specifications and Comparison With Other Devices at a Glance
So there you have it guys ! That concludes our roundup of HTC's flagship phone of 2013 and with the launch of the Samsung Galaxy SIV just around the corner we will have to wait and see as to how HTC fares with one of its longest running rivals in the smartphone industry. Will the South Korean giants be able to upstage them (yet again) or does the Taiwanese company have a backup plan in store for them ? We'll have to wait and find out when both devices hit the markets in the coming months. Well all we can for now is Good-luck to them both
Comments
comments
Related posts