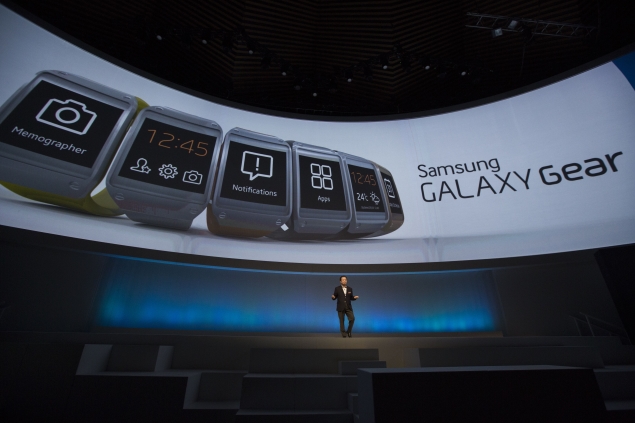 The moment everybody was waiting for has finally arrived today. In a live event held in Berlin, Germany, Korean tech giants Samsung unveiled their highly anticipated smart watch titled the "Samsung Galaxy Gear". The device features a 1.6 inches LED display, 4 GB of onboard memory, a 1.9 megapixel camera, built in speaker and microphone and a non-removable battery that promises to give you a day's worth of use on a single charge.
According to Samsung, the Galaxy Gear gives user's a whole new way to use their Smartphone's (yes you guessed it right) without actually using them at all. It lets you make calls without having to take the phone (linked to it) out of your pockets or handbags, check email or SMS notifications directly on the watch, capture quick snapshots so that you never get to miss any of those moments that seem to zap by in a blink of an eye.
 The Galaxy Gear comes with 10 different clock options, time, pedometer and plenty of different apps including Evernote's note-taking software, auction service eBay, the social network Path and several fitness programs that would be available for download once the device gets officially launched on September 25th. According to a Samsung spokesperson, the Galaxy Gear is a perfect companion for the Galaxy Note 3 which was also announced today at the same event.
When paired to the phone via Bluetooth, you can use it as a speaker phone (there are two microphones for noise cancelation and a speaker on the band). Voice commands allow you to use it hands-free such as when you're driving or carrying groceries with both hands. There is also a mini-phone dialer that you can tap with your fingers.
 Currently the Galaxy Gear is only said to be compatible with the Galaxy Note 3 but Samsung have mentioned that other devices would also be made compatible with it soon. As far as the pricing goes, the Galaxy Gear is expected to have a launching price of $300 and would be available in 6 different (band) colors: Jet Black, Mocha Gray, Wild Orange, Oatmeal Beige, Rose Gold and Lime Green.
So what do you think about Samsung's next little protégé? Would it be around your wrists any time soon? Do share in your thoughts with us. Cheers!!
Comments
comments
Related posts