The day for which the whole world had been anxiously waiting for has finally arrived. As we all know, the annual Mobile World Congress which is taking place in Barcelona, Spain has been a centerfold for phone manufacturer's to awe one and all with some of the most amazing and breathtaking hand held portable devices; whether its in the form of a Smartphone, Tablet or a Phablet. With that said, Samsung have once again managed to steal the event's spotlight with the launch of its latest flagship device of the year, the Samsung GALAXY S5 along with the GEAR 2, GEAR 2 Neo and the GEAR Fit. We'll be reviewing the GEAR Fit soon but for now lets just indulge ourselves into the fantastic world of Samsung's latest entry in the GALAXY family, the all new GALAXY S5.
Design and Body
The GALAXY S5 is truly a thing of beauty when you see it for the first time. The device comes wrapped in a sleek looking polycarbonate body with a dimpled, matte soft-touch back which not only makes the device look elegant but also gives a little sturdy look to it as well. Samsung have really outdone themselves this time with the design (and even though the S5 does not come with a metal body as many rumors were suggesting it to be) which is another major improvement from the faux-leather hard plastic used in the recently launched GALAXY S4 Black Edition, the GALAXY Note 3 (both phone and tablet). Besides the new design, the S5 comes with an IP67 certification which makes it resistant to sweat, rain, liquids, sand and dust.
Samsung have reiterated the fact that the device is "Water and dust resistant" and not waterproof so if you're thinking of taking it along with you for a swim, then you'll have to think again. The device's USB connector is protected with a small rubber enclosure so as to prevent the water or dust particles from seeping inside. Overall the device weighs in at just 145g and measures up at 142 x 72.5 x 8.1mm. Samsung have also announced a whole bunch of new designer changeable covers that would be sold as separate official accessories for the device.
Under the Hood
As far as the devices tech specs are concerned, the S5 comes packed with the all new 2.5 GHz Qualcomm Snapdragon 805 quad-core processor partnered with 2GB DDR3 RAM, 5.1" FHD Super AMOLED (1920 x 1080), 432 ppi dispaly, a 16MP full HD rear camera and a 2MP front facing camera, a 2800mAh battery that should give the S5 enough juice to easily last a day (Samsung claims 21 hours of talk time), micro USB 3.0 port for rapid data transfer, 16/32 GB of on board memory with MicroSD card support  (up to 128GB), a finger print scanner and a heart rate monitoring sensor. Last but certainly not the least, the GALAXY S5 would be running on Android's latest OS version 4.4, KitKat along with a new version of Samsung's Touch Wiz interface including new icon packs and a host of new customizable widgets.
Camera
Throughout the years, Samsung have been renowned for some of their most innovative and unique camera capabilities and the S5 is no different to that. The device comes equipped with a 16MP camera with LED flash capable of recording 4k videos, new advanced HDR mode and (our personal favorite) the post-shot focusing that enables you to take two images every time you press the shutter, with the focus trained in different spots; one on the subject and one on the background. This means that, after the shot's been taken, you can choose either a blurred or a sharply focused background, but the camera's best new feature is its super-fast auto focus, which Samsung claims is the fastest on any smartphone at up to 0.3 seconds.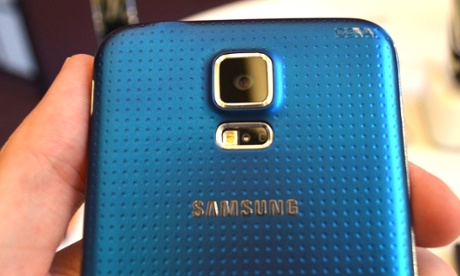 As with all the previous GALAXY versions, you will find a front facing 2.1MP camera (also capable of recording videos in full 1080p HD) that does come in handy for those lengthy looking Skype video calls or for simply taking "selfies" that seem to be the world wide trend these days. Let's take a quick look at the aforementioned camera features that indeed are one of the major attractions of this device.
Fast Auto Focus – Don't miss the action
With the GALAXY S5, you don't need to hesitate even for a second before shooting and capturing the action as it's happening….trust me when I say this, but it is indeed as fast and rapid as the company is claiming it to be. The devices faster Auto Focus allows you to take pictures of movement and action in focus so that you no longer have to miss any important moments.
HDR(Rich tone) – For brighter & vivid captures
For both photos and videos, turn on the HDR when there is a strong counter-light or when the subject is shaded.
The preview can be seen in real time along with natural light and color being reproduced vividly and clearly the same time you are actually taking the shot. Interesting isn't it ?
Selective Focus – Treasure moments in detailed focus
This new feature has seemed to gain our attention the most and I'm sure most of you would agree to that as well once you have tried it out yourselves. The Selective Focus mode allows you to focus on what's important by blurring the background and accentuating the main subject in defined detail. The feature is similar to the depth-of-field feature found mostly in higher end DSLRs and is one of my personal favorites. As mentioned earlier, with the Selective Focus mode, only the subject would be focused with the background and remaining objects all blurred out so do not have to worry about manually adding the blur effects to your pictures later on.
Heart Rate Sensor – Following your every beat
Another major addition to the Galaxy S5 and truly the first of its kind to be found in smartphones is the built-in Heart Rate Sensor which enables you to measure your heart rate directly on your phone. You can now check your heart rate at any time of the day and manage your condition accordingly. Samsung throughout the years are known for their innovation and with this new welcomed feature, the South Korean tech giants have managed to do just that.
The sensor is located at the back, right underneath the camera. All you have to do is just place your finger on it and within no time, you'll be actively able to monitor your heart beat. This feature would also come in handy for athletes who can also benefit from it after a long sprint/swim or cycling session.
S Health – Your personal fitness tracker
Samsung had introduced this feature with the GALAXY S4 last year and have seemed to add a whole of improvements to it in the S5. The new and enhanced S Health leads you through your fitness routines daily and consistently that allows you to regularly keep a close eye on your daily dose of health and fitness activities. S Health lets you set your goals and achieve them with the help of an improved pedometer that constantly keeps track of your condition, walking distance, calories, speed, duration, and so on. When connected to the Gear 2 or the Gear Fit, S Health becomes your most trusted every day companion.
Finger Scanner – Fingerprint security & access
Samsung have enhanced the security of the device with the addition of a finger print scanner right on the home button. Unlike the one found on the iPhone 5S you do not have to press your finger on the scanner, but slide the finger to unlock the device or access other features. Due to its position on the smart phone, it makes for one hand usage very simple. The scanner also helps unlocking two new features of the device "Private Mode" and "Kids Mode". Private Mode is for locking out personal data from peeping toms who like to search the phone from top to bottom. The files are hidden when locked in private mode, so people would not even know they are there. The second feature is called Kids Mode, it changes the interface of the GS5 entirely, showing apps, games and videos made specifically for kids all by the touch of your finger. Samsung have also partnered with PayPal to authenticate the finger prints for secure payments. This works even for purchasing Samsung services, so you do not need to remember passwords, just use your finger!
High Speed Downloading with the all new Download Booster
Samsung have applied the "Two is better than One philosophy" and come up with another one of a kind feature called "Download Booster". What is does is, enables the use of WiFi and LTE simultaneously, So basically you get almost the combined speed of both the connections. The device uses the 5th generation Wi-Fi 802.11ac and 2X2 MIMO (Multi Input – Multi Output) technology, which means for faster internet speeds. The GS5 comes with twin WiFi antennas which help maintain strong bandwidth.
Power Saving Mode gets an "Ultra" Boost
The worry of how long the phone will last, still haunts us every day, since the first android phone was invented . Samsung seems to have finally come up with a solution for that worry, called "Ultra Power Saving Mode".  When activated the display of the GS5 goes black and white, shutting down most of the apps showing just necessary applications like SMS and Phone Call. You can customize other apps on the screen as well. According to Samsung's telecommunication V.P. Jean Daniel Ayme if the battery is down to 10% and this feature is activated, the phone will last on stand buy for 24 hours. This is one feature I personally looking forward to, as we all have this issue, no matter what device we use.
GALAXY S5 Specs at a Glance
5.1-inch 1080p HD Super AMOLED display
2.5GHz Qualcomm Snapdragon 805 quad-core processor
2GB RAM
16 megapixel rear camera with 4K video recording
2 megapixel front camera
16GB / 32GB of internal storage (microSD up to 128GB)
2,800mAh battery
USB 3.0, NFC, Bluetooth 4.0, WiFi AC MiMo
IR Blaster
Fingerprint Scanner
Heart Rate Scanner
Android 4.4 KitKat
Our Verdict
On paper, the GALAXY S5 does look more than impressive…to say the least. With the all new added camera features along with a bunch of other useful additions such as  the Finger Print Scanner and the Heart Rate Sensor, the GALAXY S5 truly has all the muscle to be noted as the next big thing. The GALAXY S5 along with the GEAR 2 and Fit would start rolling out on April 11th, 2014 and would primarily be available in 4 distinct colors: Charcoal Black, Shimmering White, Electric Blue and Copper Gold. There has been no official word as far as the pricing is concerned but we'll get to know about it once the device starts rolling out. Overall it is a good device but would it be able to hold its ground against some of the other big name contenders that have also made their way at the MWC including the Xperia Z2, the LG G Pro 2 and the upcoming HTC M8? We'll find out in the months to come. Cheers !
Comments
comments
Related posts