Messaging clients have been among some of the most downloaded apps in recent times from Android to Windows Phone to iOS devices, all seem to have the one thing in common and that would most certainly be the various third party messaging clients. Initially it was just our friendly neighborhood Whatsapp followed by the ever popular Viber (made famous mainly due to its free calling features) and a few others that later followed in their footsteps including the likes of Tango, WeChat etc. Well it seems that when the messenger warfare hadn't already had enough soldiers on the field, another one is stepping into the fold these days…..or let's just say is out on a "Hike" !!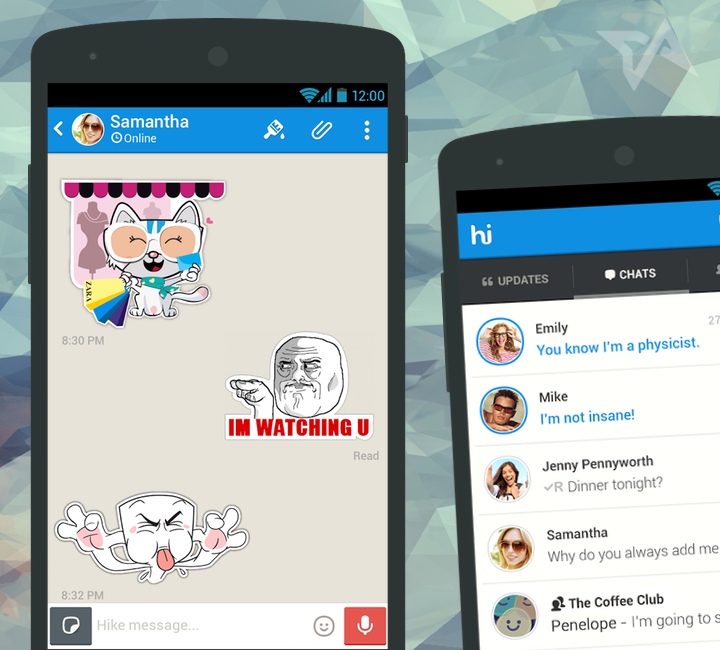 Developed by our friends in India, this latest entrant in the free messaging client category is simply titled "Hike". As the name suggests, this free app has been recently creating a lot of hype especially among the teenage members of our society even though the messenger is catered towards everyone. Now if your'e like me, you would also probably be wondering as to exactly why you would need another messaging app when there are already quite a few that have been available since quite some time and are apparently doing quite well on their own? Well the answer to this question lies not only in some of the unique features in this new messaging client, it also at the same time manages to offer a comparatively safer messaging environment.
That being said, the main focus of Hike Messenger is its ability to screen unwanted people from your messaging list using the apps Hidden Mode that lets you hide the chats that you want to keep private from the world and can only be accessed by you with a password preventing those nosy friends of yours from eves dropping into your recent chat history every now and then.
Another major talking point of this app is its ability to send files up t0 100 MB which is a first of its kind feature as most of the apps that are currently available only support file attachments that are under 20 MB so this most certainly is a step in the right direction as far as the app's developers are concerned. For those of you who are residing in India, the messenger has an added benefit which lets you send FREE text messages through the app to all your friends even if they don't have Hike installed on their devices. We're hoping for this service to be available everywhere but for the time being its only for India.
Furthermore, the app comes pre-loaded with a  128-bit SSL Encryption over Wi-Fi leaving your messages safe from hackers and people who you would rather avoid sharing your content  with. Last but certainly not the least, the app can easily be installed on your SD card so you have absolutely nothing to worry about as far as space issues are concerned (usually these apps tend to get saved in the phone's internal storage ONLY).
All in all we are happy with what Hike Messenger has to offer and the few added perks such as the beefed up security measures along with the ability to send large files have made this app worthy of giving a try. Feel like giving it a try? Head on to Google Play and download it right away. For those of you who have already started using Hike Messenger are welcome to share their experiences with the app so far. Would you recommend it to others or just let it go on a Hike like the rest of the messaging apps ? 😉
Comments
comments
Related posts