It seems like Samsung aren't the only OEMs that have come up with the concept of a dual screen smartphone when the South Korean tech giants announced their latest addition to the long running (prestigious) GALAXY Note Series phablets with the launch of the Samsung GALAXY Note Edge. Now why would anybody require two screens on their smartphones when only one could suffice? Well the answer to this million dollar question has been answered by none other than Russian manufacturer Yota Devices with the launch of their second generation Yota Phone. The device sports not one but two displays. That's right folks. The concept behind having dual displays on the Yota Phone is actually quite simple. On the front you will find a 5-inch Full HD AMOLED and once you flip the device over, you'll find a nifty looking 4.7-inch e-ink touch screen (similar to the ones found in most E-Book readers) with a still respectable qHD resolution with both displays wrapped in sturdy Gorilla Glass 3.
The second screen isn't just for reading your e-books on the train either. It can give you notifications, messages and other important information. Furthermore, you can now respond to what appears on the rear screen with just a single touch. The e-ink screen saves a lot of power by avoiding the need to use the full-color alternative for those little things like notifications and checking the time; as well as for other things like reading and playing games including chess and sudoku. The rear screen also supports live wallpapers and live widgets.
Here's what Mr. Vlad Martynov, the company's chief executive had to say about their new device;
"The typical user picks up and activates their smartphone more than 150 times a day. Why? Because users worry that messages or information they need or want are hidden behind their phone's black screen," said Vlad Martynov, chief executive of Yota Devices.

"Yota Devices proved that there is an antidote to the always-dark smartphone screen. The future of smartphones is always-on displays allowing users real-time access to information without turning off the real world and disrupting the people around you."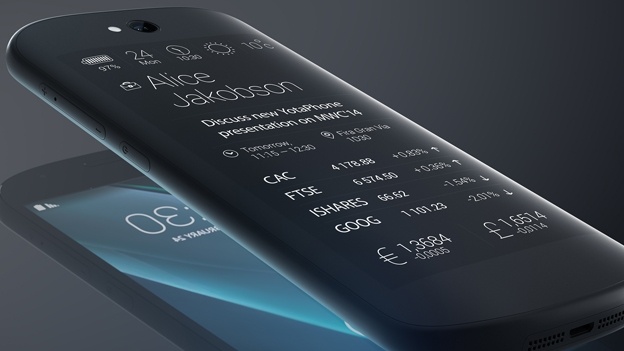 Coming to the hardware side of things, the Yota Phone 2 sports a 2.2 GHz Qualcomm Snapdragon 800 processor, 2 GB of RAM and 32 GB of internal storage an 8 Mp rear camera and a 2.1 Mp front camera and a 2500mAh battery that promises to last for more than 50 hours if the device is only used for reading e-books using the rear screen. The Yota Phone 2 would be running on the stock (vanilla) version of Android 4.4 KitKat out of the box with future updates have also been promised. On the wireless front, the device is equipped with 11ac Wi-Fi, Bluetooth 4.0, NFC, A-GPS and 4G LTE via a nano-SIM slot and also comes with a built-in wireless charging option which is definitely going to be one of the major attractions of the device (besides everything else of course).
According to an official company statement, the devices would start rolling out in the UK starting from today and would be available from selected retailers for quite a hefty initial launch price of £555 which makes the Yota Phone 2 even more expensive than the iPhone 6 but with the dual screen and all, this was indeed expected. The phone can also be purchased directly from the company's  website as well. So guys what's your take on this newly designed smartphone ? Does it have what it takes to get on your Christmas shopping list? Do share in your thoughts with us in the comments below. Cheers and happy holidays to all !!
Comments
comments
Related posts