With the love for selfies growing exponentially, it seems fiting for OEM's to shift their focus from not only innovative smartphone hardware but to certain accessories that are truly heading in the right direction as far as shaping up the future is concerned. Every smartphone today has amazing cameras catered together with powerful LED flash but the one major worry (though it wouldn't be the end of the world even if it wasn't but anyway) is the fact that most smartphones today even though come with high resolution front facing "selfie" cameras, the one major thing missing from their repertoire is the option to take those perfect night time selfies under extremely low lit conditions. Thanks to Lenovo, those days are soon to be long forgotten with the launch of the world's first Lenovo Vibe Xtension Selfie Flash at the recently concluded CES 2015 in Las Vegas.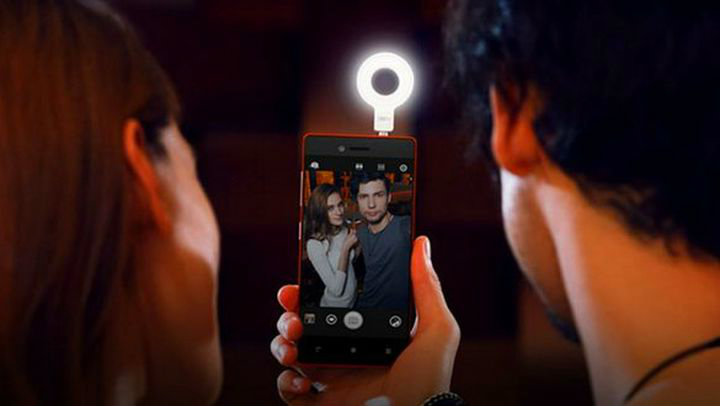 The Lenovo Selfie Flash features 8 LEDs in a small ring that connects to your smartphone via the 3.5mm headphone jack. Plug it in, launch your camera app and you're good to go. The 8 LEDs are powerful enough to illuminate your selfies even in a pitch dark room. The device works natively with the Lenovo camera app but even if you don't own a Lenovo smartphone, you can still easily use the device on any smartphone having a 3.5mm headphone jack. The LED's can be switched on manually by pressing a small button at the back of the device which also enables to you to use it as a camera button to snap those perfect selfies.
According to Lenovo, the Selfie Flash can take upto a 100 selfies on a full charged battery and can be either used for taking selfies or for enhancing the quality of pictures taken with the rear camera if the device is turned the other way around. As for now the Lenovo Selfie Flash would be made available only in Europe and Asia by April for $29. For those of you residing in North America and other regions can still order the device from Lenovo's website starting this April. As always, this year's CES was also full of surprises and we've got plenty more of exciting goodies for you guys so do stick around. Cheers !!
Comments
comments
Related posts