After months of speculations, HTC have finally unveiled  the HTC One Max which is the company's very first phablet version of their 2013 flagship device, the HTC One . Earlier this year we had mentioned about the One Max which at the time looked just like an elongated version of its smaller brother but from the looks of things, there is much more to it than it was initially rumored. The HTC One Max comes with a 5.9-inch 1080p HD display, 2GB RAM, 16GB-32GB of internal storage with the ability to expand up to 64GB with microSD (a feature that was missing in the HTC One), a Qualcomm Snapdragon 600 quad-core processor, an Ultra Pixel camera similar to the one found in the HTC One, Android 4.3 running on the new Sense 5.5, a 3,300 mAh battery, a removable back-plate and last but certainly not the least our personal favorite – the all new multi-finger print scanner which has certainly proved to be a major attraction.
Not so long ago Apple had unveiled their latest flagship iPhone 5S which was the first device to come up with this new found technology which lets the user unlock their device with a single swipe and scan of their fingers. Coming back to the the scanner found in the HTC One Max, lets you do a bit more than just unlock your device. As mentioned earlier, the One Max's new multi-finger scanner lets you assign up to three different apps (you can choose from a wide range of options including the camera, music player, calculator and much more) that can be launched depending on the finger you swipe. Sounds pretty cool doesn't it?
As far as the new HTC Sense 5.5 is concerned, it doesn't bring many dramatic changes in terms of usability and looks, but HTC did make BlinkFeed more useful. For starters, users can now enjoy more refined customization of categories and topics. You can integrate with new social networks like Instagram and Google+. Finally, BlinkFeed now also allows you to cache up to 120 articles for offline viewing which is a welcome addition to the previous version. Another cool feature that comes bundled with the update is HTC's new Video Highlights in the camera software that automatically combines photos and videos with a soundtrack and theme, were the highlights could be either short or long depending on how you want them to be.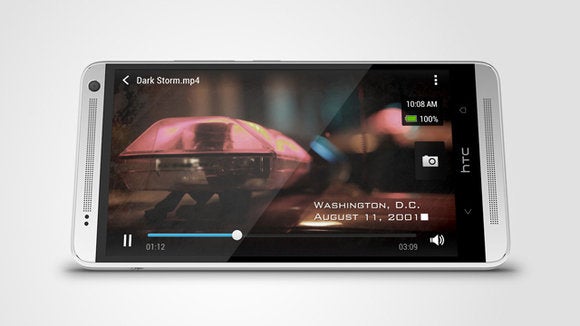 Pricing and availability have not been unveiled so far by HTC  but we are expecting the device to start rolling out by the end of this month. From what it is worth, the HTC One Max would most certainly be going head to head with Samsung's recently launched beast, The Galaxy Note 3. So what would it be for you ? Is it the HTC One Max or the Samsung Galaxy Note 3 ? Do share in your thoughts with us.
HTC One Max Specs At a Glance
5.9-inch 1080p HD display
Qualcomm Snapdragon 600 quad-core processor
2GB of RAM
16GB-32GB of internal storage (ability to expand up to 64GB with microSD)
HTC UltraPixel camera
2.1 megapixel front camera with 1080p HD video recording
Front-facing BoomSound speakers
Fingerprint scanner
WiFi ac, Bluetooth 4.0, aGPS, NFC and MHL
4G LTE
Android 4.3 with HTC Sense 5.5
3,300 mAh battery
Comments
comments
Related posts