Its been quite a while since we have seen a major overhaul to Touch wiz, Samsung's customized UI that is found in almost all of its devices. The wait for getting a taste of an entirely new look to the UI might finally be over. According to a few leaked images by evleaks, we just might get to see a completely revamped Touch Wiz in the eagerly anticipated Galaxy S5 which is rumored to be launched sometime in April. The new interface has a similar looking touch and feel that makes it a hybrid of  colorful looking Windows Tiles and Google Now cards. The collection of cards includes your current location, home automation, fitness tracking, food orders, biking/cycling information, sports scores, flight information, delivery updates, event reminders, and much more.
Even though there has been no official word on this by Samsung or any of its representatives, we do like to keep our cards hidden for now and just hope these rumors do turn out to be true in the end. The present Touch Wiz even though has seen has a lot of success in recent years, but now people consider it to be a little bit outdated and monotonous to say the least. As per the leaked images, we can see that these new informative cards show check-in information, location sharing, song sharing and messages from your colleagues and loved ones all stacked up within each tile.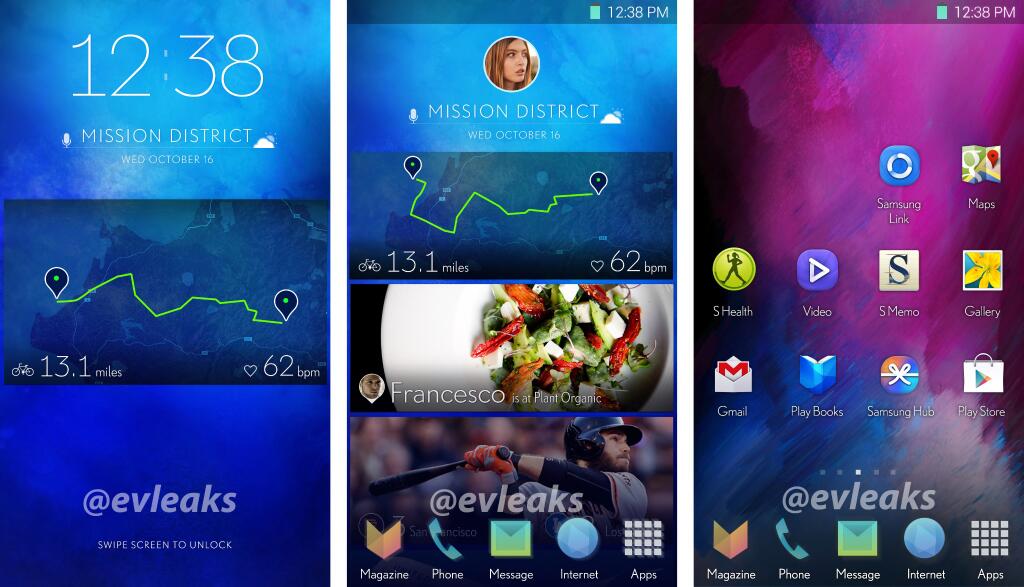 The new concept does look interesting though but now the main question is whether Samsung are going to actually stick with it or come up with yet another new design when the company eventually does decide to go public in the coming months. Even in past, evleaks has been relatively quite accurate with most of his early leaked images so for now we'll just have to wait and see till things get official. Do stick around for further details.
Comments
comments
Related posts