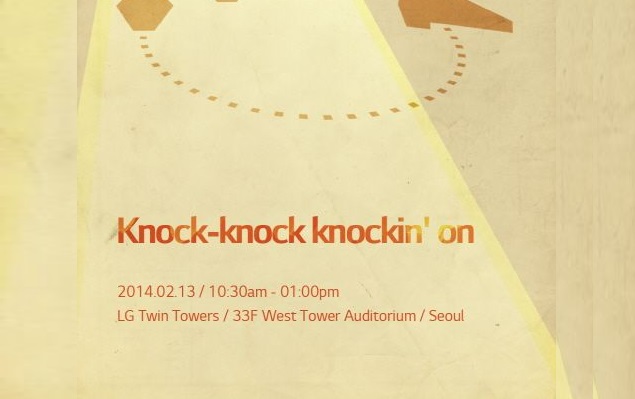 LG, with the success of the LG G2 has not only opened doors for its third successor which is expected to release sometime in May but has also at the same time managed to get everyone excited with the announcement of the LG G Pro 2. According to a few rumors that surfaced last month, the new device was expected to make its debut at the MWC that is kicking off on the 24th of this month on Barcelona, Spain. But from what we are seeing now, the G Pro 2 could very well be an early valentine's day gift from the South Korean tech giants.
The mega event is dated for February 13th, with the invite featuring the text "Knock-knock-knockin on", a likely reference to the feature of the same name introduced with the LG G2. The ability to "knock" the phone's display to wake and turn off the display will likely carry over into the LG G Pro 2, from which we can infer that the event to take place in Korea could very likely feature the launch of the new handset.
As far as the hardware is concerned, the LG G Pro 2 is rumored to feature a 6-inch QHD display along with a Qualcomm Snapdragon 800 processor, 3GB RAM, and a 13MP camera utilizing OIS+ technology. The camera is expected to shoot 4K and slow motion video and will include several other special camera modes. We will have to wait a few more days to be 100% sure as to what exactly LG have in mind but till then let's just hope that these rumors do turn out to be true in the end. Stick around for more !
Comments
comments
Related posts