HTC through out the years have a knack of coming up with some of the most elegant looking smartphones to-date. Last year, the HTC One clearly justified this statement and was widely considered to be one of the most stunning Android devices to grace the markets. The HTC One not only brought grace and elegance with it, it also revolutionized the smartphone genre with some of its appealing features including the very impressive Boom Sound (by Beats Audio), the Ultra Pixel Camera along with a sleek metallic design. The HTC One truly had all the characteristics to be deemed as HTC"s flagship device of 2013. Now the question on everybody's mind was exactly how the company be able to better its almost perfect prodigal son? Well the answer to that question Ladies and Gentlemen is the all new HTC One M8. Let us now take an in-depth look at what the HTC One M8 has to offer and whether it deserves to wear  its predecessors crown or not!
Design and Body
One of the major attractions especially when it comes to HTC devices is the premium feeling which you get just by looking at them and this indeed is a fact. The M8 just like its predecessor comes wrapped in a uni-body metallic frame which not only gives the device an elegant look, but also makes it feel quite sturdy and sophisticated. There are no traces of plastic to be found anywhere on the device which should be a plus point for those who are not very much fond of getting devices that have been made with plastic as it tends to give a less classy look to the otherwise quite expensive and high-end smartphones. Even with the metallic body, the M8 which weighs in at around 160gms doesn't feel too bulky to carry in the pocket.
As far as the device's overall size is concerned, the company has this time around decided to go with a larger 5-inch screen as compared to last year's model that had a 4.7-inch display. The 5-inch screen, up from 4.7-inches on last year's model, is a Super LCD3 display with 1080p resolution, protected by Gorilla Glass 3. On the top and bottom of the screen you will find the new and much improved BoomSound speakers which according to HTC have been improved by upto 40% as compared to its predecessor. The one complaint that people had with the previous HTC One was that whenever they used to play a game or watch a video in landscape mode, their fingers used to automatically hover over the ambient light sensors causing the screen to go dark most of the time. HTC have rectified this little problem by shifting the light sensors on the right hand side next to the front camera. The HTC One M8 would be available in three colors at launch: Gunmetal Grey, Silver and Amber Gold.
Under the Hood
As far as the devices tech specs are concerned, the HTC One M8 comes packed with a 2.3GHz Qualcomm Snapdragon 801 quad-core processor together with 2GB LPDDR3 RAM, a 5-inch full 1080p SLCD3 Corning Gorilla Glass 3 display with a 441 ppi, a 4MP Ultra Pixel DUOS rear camera and a 5MP front camera for taking those much loved selfies, a 2600mAh battery that should be enough to give the device enough sting to last at-least for a whole day, 32GB of on board memory expandable up to 128GB with a microSD card, an IR Transmitter, motion sensors and of course the new Boom Speakers that are definitely worth mentioning. Besides the impressive hardware, the HTC One M8 comes bundled with Android 4.4, KitKat together with the all new HTC Sense 6.0.
Camera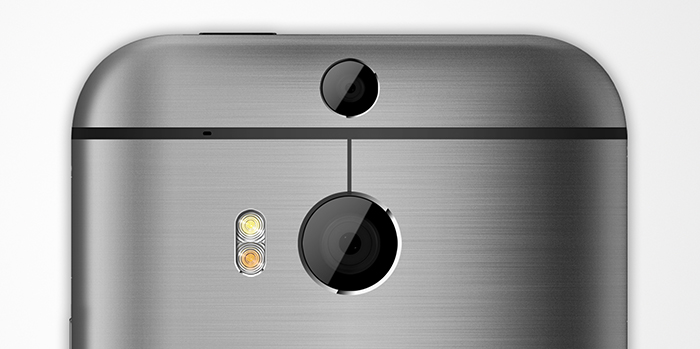 No matter how good a phone looks and feels, how much storage capacity it has or how powerful the battery actually is. Ath the end of the day it all boils down to the one most pivotal thing (call it the major attraction) is without a doubt, the devices camera. Isn't it? Well HTC never do seem like a company to back out of competition now is it? Even though many would feel that the camera could had been a slightly bit better than what is being offered with the M8 but I'm sure looking at all the other positives of the phone, this little area could be overlooked. Coming back to the device's camera specs, the M8 incorporates a 4MP Ultrapixel sensor similar to as last year's M7.
In fact, the sensors aren't exactly the same, but the specs are: a 1/3″ sensor with 2µm pixel size and a wide-angle f/2.0 lens with 28mm equivalent focal length. In theory, as HTC often reasserts, the relatively large sensor (for a phone), coupled with larger individual pixels in fewer numbers (four megapixels means four million individual pixels; in contrast, the iPhone 5s has an identically-sized 1/3″ sensor with eight million pixels) equates to more light being captured, and higher-quality low-light shots.
In case you missed out reading earlier,the M8 not one but two rear cameras together with 2 flashes. Now for those of you who are wondering as to exactly why would you need two lenses in the first place? Well to set things straight, the second camera would not be used for taking pictures and videos, instead its main functionality is to capture extra data to create a depth map of the scene, facilitating a number of interesting editing features. Many of which will most probably go unused, but the most impressive is UFocus, which uses the extra metadata to blur out the background of a photo, or conversely refocus the background at the expense of said foreground object. We'll talk more about UFocus in detail a little bit later for now let's get back to the core camera features.
Selfie Cam
The M8 also sports a 5MP front camera and is most certainly one of the most powerful looking one's we've come across so far. The camera mode is rightfully called "Selfie-Cam" and that pretty much explains everything doesn't it. For all you selfie-holics out there, this is an absolute treat. Trust Me!! Some of the images captured with the front camera are almost as good as those captured from most other smartphone rear cameras.
UFocus
The Ufocus Mode (which certainly is my personal favorite)  lets you add depth to your pictures after they have been captured in just a few simple steps. Once the picture has been taken, go in Gallery, select the pic that you want to edit and just tap the area which you want it to be blurred out and the app would do the rest. Take a look at these two pictures for example.

Duo Cam
The Duo Cam mode includes sub categories including Foregrounder which lets you add special effects to the foreground and background of your captured pics, Seasons  as the name indicates, allows you to add special seasonal effects to the pics like falling autumn leaves, rain, snow etc, then there is the Dimension Plus that gives a 3D effect to your pics when the phone is tilted and last but certainly not the least, you have the Touch Up mode that lets you fix red eye, soften skin and a few other after effects to make your pics look even more sharp and appealing. One small thing to keep in mind is that the Duo Cam Mode will automatically get disabled in low light conditions, during macro Mode, burst mode, dual cam mode and when the flash is activated.
Revamped Camera UI
While putting their ultimate focus on the device's camera, HTC have also completely revamped their Camera interface adding a bunch of new (useful) features that include a host of manual settings for exposure, maximum ISO, white balance and more. Custom camera settings can be saved as presets for quick retrieval later.
Like Nokia's Camera app on Windows Phone devices, when in manual mode these settings appear in a vertical slider, making it easy to adjust ISO or change white balance all in real time which does come in handy especially when you feel like capturing that perfect moment. The maximum ISO is 1600 which is relatively quite good enough to take decent shots even under extremely dark environments.
HTC Sense 6.0, BlinkFeed and HTC Themes
 The HTC One M8 as we mentioned earlier runs on Android's latest 4.4 operating system (KitKat) and gets upgraded to the latest Sense 6.o adding a few new exciting features along the way including the all new Quick Settings option, the Do Not Disturb mode which will block incoming calls, sounds, vibrations, and LED notifications while you're at a meeting and do no wish to be disturbed. You can set DND to turn on/off manually or give it a timer to automatically expire after a certain period of time. There's also an exception list to let certain contacts bypass do not disturb, option to prevent alarms and timers from silencing, and the ability to create recurring do not disturb schedules to match your daily or weekly routine.
HTC have also added a new "Themes" feature that lets you customize your devices according to your mood while also allowing you to disable/enable any function that you feel is not quite useful at that particular moment in time. Blink Feed shouldn't come  as a surprise for those who have used the original HTC One (also known as the M7) and the devices that came after that including the Desire 500 series and a few more. BlinkFeed allows to you stay up-to date with all the latest news feeds related to sports, politics, entertainment and a bunch of other things. Some of the major additions to this year's update includes the ability to sync it with all your favorite social media clients like Facebook, Twitter, Google+, LinkedIn and Instagram so that you don't miss out on any of the important stuff while you're on the move.
Motion Launch
Having various motion functions has become some what of a norm with most high-end devices these days. Some are quite useful while others are used mainly for showing off your device. One such function is the double tap the screen to wake it up, honestly it has made life so easy. We will never need to pick up the device to check for notifications, just double tap the screen to wake it up, have a look and if there aren't any then double tap the screen to put it back to sleep. So simple right?
HTC with the M8 have gone a step further and introduced the world to Motion Launch. What this basically does is, it opens up various activities with just a swipe on the screen, when it is locked and asleep.  Swiping up or down would lead you straight to the Home screen or let you make a call. Swiping right and left will get you Blinkfeed and the most recent activity you have performed.
This is if your device is still sleeping, if it is already awake then it is a different ball game altogether. The lock screen will have all the icons on your home screen dock, so if you want to directly go into those apps, then just drag the app icons up. If you want to go straight to Google Now then you will have to swipe up  from the bottom of the screen. You can also go to Blinkfeed and recent activity from the locked screen as well, just have to swipe left or right. The motion sensors have been improved quite a bit, so you do not have to worry about swiping from the middle of the screen or anything, the sensor will automatically judge what to do, when you swipe in any part of the screen. A point to note though is the above mentioned functions only work, when the phone is awake and in your hands. So, there is no risk of the phone unlocking and doing something it should not, while in your pocket.
BoomSound
HTC have done it again, when it comes to state of the art speakers in a smartphone. They introduced us to BoomSound in the previous HTC One and now, have them back with more "Boom" for the 2014 edition of the device. HTC have a claimed a 40% overall improvement in the sound when compared with the M7. The speakers are placed perfectly on the top and bottom bezels of the device, so when you hold your device you never end up putting your finger on them. The speakers have more power than their predecessors, with much more "Umph" to the bass. Making them one of the best speakers in a smartphone till date.
Smart Cover (sold separately)
The trend of smart covers which was initially introduced by Samsung have now paved a way for other OEMs to step into this category. Never the one's to be left behind HTC have also come up with their own range of multi-colored smart flip covers for the M8. The optional accessory has a see-through dot pattern that lets you see incoming notifications, check the weather and more with a tap. You can even answer the phone without opening the cover, as the One M8 is smart enough to pick up the line when you lift the device to your head. Now here's an accessory I'm pretty sure most of you would like to get their hands on.
Specs Comparison at a Glance
Our Verdict
HTC seemed to be in the right direction when they had launched the HTC One, with a fantastic uni-body, great camera and one of the best speakers in the mobile industry. Well if you thought they could not do better, then guess again. The HTC One M8 is a beast of a device and comes to par with most other high end devices when it comes to specs. The metal uni-body is back with a much better grip and a beautiful design maintaining its premium feeling. The camera may not shoot as good as some of the others, but the different functions of the camera software more than make up for it. In the sound department, no device seems to come close to it, thanks to the BoomSound technology. The microSD card slot which allows up to 128GB is a real treat, so no more insufficient memory worries. Overall it is a brilliant device and anybody looking for splashing some cash on a new device, this would be the phone to get.
Comments
comments
Related posts